POLE SIGNS
Pole (Pylon) Signs direct traffic to your business. These signs are usually installed close to the main streets where you business is located. Pole Signs can also have Reader Boards or LED Message Units to display any announcements. Tri City Sign can design and fabricate a Pole Sign that will help your business be noticed.

Pole Sign Spotlight: Mi Ranchito
Mi Ranchito Restaurant Pole Sign will catch your eye as you enter the town of North Platte, Nebraska. The Illuminated Pole Sign stands 40'-0" in the air. The pole cover was built to look like a cactus; at night the top half of the cactus is outlined in a green neon accent.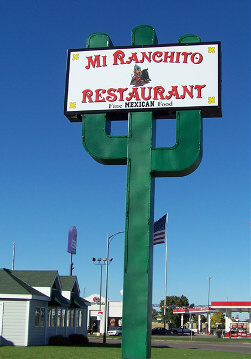 Listed below are some examples of our work. Click on an image to enlarge and view our gallery.