MESSAGE CENTERS
Electronic Message Units give your business or organization a professional image and draw a tremendous amount of attention. Electronic Message Centers communicate to your audience by using bright, eye-catching images or moving text in a timely manner.

Message Center Spotlight: Tom Dinsdale
Tom Dinsdale Chevrolet - Cadillac - GMC - BMW , a car dealership in Grand Island, Nebraska, wanted a Full Color LED Message Center to display their products and catch the attention of the public. The Unit is an AlphaEclipse PureColor 3600 series. This top of the line Outdoor Message Unit, is not only bright, but has a better angle visibilty that catches the attention of Tom Dinsdale's drive-by audience.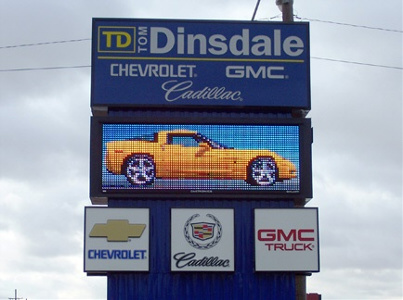 Listed below are some examples of our work. Click on an image to enlarge and view our gallery.